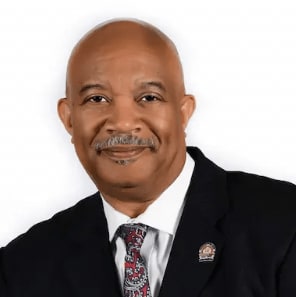 Meet Shad
Shad Bogany is tuned into your needs. The first thing you notice about Shad Bogany is his voice. Though it isn't a particularly loud voice, he has the projection of a man who's used to talking to thousands. Nor is it the commanding voice of a drill sergeant. But when he talks people listen, "hang" on his every word. A voice of experience. An expert in his field, he thrives on sharing what he knows. But far from doling out pearls of wisdom from the ivory tower of academia, Shad uses a broadcasting tower to share his insight with an infectious laugh and the folksy manner of a trusted friend. And when his call-in radio program is going out over the Houston airwaves with 5000 watts of energy behind it, power is knowledge.
Building Bridges
Knowledge is something Shad knows a lot about. It's been a big part of his life since he was a young man growing up in Houston. Shad learned early on that book learning was only half the equation when it comes to success. Truthfulness and integrity are key ingredients as well. As Shad's father told him, "Live each day as though it's your last, but prepare as though you're going to live forever. Try to build bridges with everyone." Shad took this advice to heart in every aspect of his life.
Education Is Key
Shad has always recognized the value of education, graduating with a degree in Business Administration in real estate from the University of North Texas in four years. He soon put his education and his father's advice to work in retail, becoming a successful salesman. Taking a cue from his father who managed real estate, Shad later switched careers and applied the specialized knowledge he'd gained in college and his business experience and acumen to become one of the top real estate professionals in the Houston area. Shad also started a weekly call-in radio show addressing real estate topics of interest to local consumers. His easygoing manner and breadth of knowledge on the subject have kept the show going strong for over a decade. In each broadcast, Shad strives to "build bridges" with listeners by providing insight and expertise on the subject he knows so well.
But when Shad's not in front of the mike, he's immersing himself in his collection of historical military memorabilia. In a room of his house dedicated to his collection, Shad, a history buff, keeps figurines from nearly every period of history from medieval to the present. Shad also enjoys spending quality time with his family, taking his prized jet boat out on the lakes around Texas, or relaxing with his collection of jazz and rhythm-and-blues CDs. And though Texas isn't known for lighthouses, Shad also collects lighthouse models, being fascinated with what they represent as a beacon to guide wayward travelers safely to their destinations.
A Beacon Of Guidance
It's Shad's total dedication to guiding clients safely through the complex real estate process that makes him one of the most trusted and knowledgeable real estate professionals in the Houston area. His enthusiasm for education and his love of imparting it to others through his weekly real estate radio program has brought him recognition as a professional who not only knows his stuff but wants to make sure his clients are also fully informed.
As a lifelong resident of Houston who also holds an actual degree in real estate, Shad is uniquely qualified in every aspect of this field and will walk you through every step of the process, from real estate financing to closing, fully explaining your options along the way. As the producer of a long-running and highly successful call-in radio program focusing on real estate, Shad is intimately familiar with the myriad details of the home buying and selling process, giving you unparalleled access to his breadth of knowledge. He carefully listens to your unique goals and needs in order to formulate an effective plan to meet those needs. To make sure nothing falls through the cracks, he has assembled a staff of highly qualified professionals to take care of the many details involved in your real estate transaction. Because of his years of experience helping first-time homebuyers find their dream home, Shad is especially turned to the unique needs and anxieties buyers face. When you're ready to buy or sell in Houston and the surrounding areas, give Shad a call. As a REALTOR who's Tuned Into Your Needs, he's ready to guide your real estate transaction to a successful conclusion.